RESULTS FROM THE 1st. SOUTH AMERICAN CHAMPIONSHIP KYOKUSHINKAI
OCTOBER 29, 2005
CORDOBA - ARGENTINA
Back to Winnipeg Kyokushin Karate
Below you will find the results from the 1st. South American Championship (IKO 3) hold in Cordoba, Argentina. Thank you to Sensei Jose Nagata for providing us with the results. Also we would like to congratulate Sensei Jose Nagata for the excellent results of the Brasilian's Team, on this tournament. We would like also to congratulate all the competitors an all the persons who make possible this tournament. OSU!
The countries that competed on this tournament were:

ARGENTINA; BRASIL; BOLIVIA; CHILE; PERU; URUGUAY.
There were 2 Categories on the Men Divisions and 1 Category for the Women Division.

In the Men Divisions up to 80 kg. The students of Sensei Jose Nagata from Brasil took the first and second place.

In the Men Division over 81 kg. Senpai Moises Montero from Bolivia took the first place, and Brasil took the second place.

In the Women Division up to 80 kg. Lelys Marques, student of Senpai Marcelo Alvaro Ovando from Bolivia took the first place and Carla Cornejo, student Of Senpai Claudio Toledo from Chile took the second place.

Three of the special awards were won by the Brasilian's team, and one was won by Chile.

Below are the number of awards that each country had won by the end of the tournament:
| | | | | | | |
| --- | --- | --- | --- | --- | --- | --- |
| COUNTRY | First place | Second place | Third place | Fourth place | Special Awards | Total Awards |
| Brasil | 1 | 2 | 1 | - | 3 | 7 |
| Bolivia | 2 | - | - | - | - | 2 |
| Chile | - | 1 | 1 | 1 | 1 | 4 |
| Uruguay | - | - | 1 | - | - | 1 |
| Peru | - | - | - | 1 | - | 1 |
| Argentina | - | - | - | - | - | 0 |

The Final results of the competition are as follow:
Saturday 29, 2005

NAME
PLACE
COUNTRY (Name of the Instructor)
CATEGORIA FEMENINA - HASTA 80 Kg.
Lelys Marques
1er Lugar
BOLIVIA (Senpai

Marcelo Alvaro Ovando

)
Carla Cornejo
2do Lugar
CHILE (Senpai Claudio Toledo)
Carolina de Fátima
3er Lugar
BRASIL (Sensei Jose Nagata)
Rafaela Rossi
4to Lugar
BRASIL (Sensei Jose Nagata)
CATEGORIA MASCULINA - PESO LIVIANO - HASTA 80 Kg.
Bruno Santos Feitosa
1er Lugar
BRASIL (Sensei Jose Nagata)
Márcio Pereira da Silva
2do Lugar
BRASIL (Sensei Jose Nagata)
Mariano Juchnowicz
3er Lugar
CHILE (Senpai Claudio Toledo)
Alonso Carbajal
4to Lugar
PERU (Senpai Felipe Tejada)
CATEGORIA MASCULINA - PESO PESADO - SOBRE 81 Kg.
Moises Montero
1er Lugar
BOLIVIA (Senpai Moises Montero)
Adilson Brito Moreira
2do Lugar
BRASIL (Sensei Jose Nagata)
Javier Perrachione
3er Lugar
URUGUAY (Shihan

Jose Luis Suarez

)
Zvonimir A. Carmona
4to Lugar
CHILE (Sensei

Hector Salinas

)
SPECIAL AWARDS
NAME
AWARDS
COUNTRY (Instructor's name)
Bruno Santos Feitosa
Best Technique
BRASIL (Sensei Jose Nagata)
Bruno Santos Feitosa
Faster Knock out
BRASIL (Sensei Jose Nagata)
Adilson Moreira
Best Knock out
BRASIL (Sensei Jose Nagata)
Mariano Juchnowicz
Best Spirit
CHILE (Senpai Claudio Toledo)

PICTURES FROM THE TOURNAMENT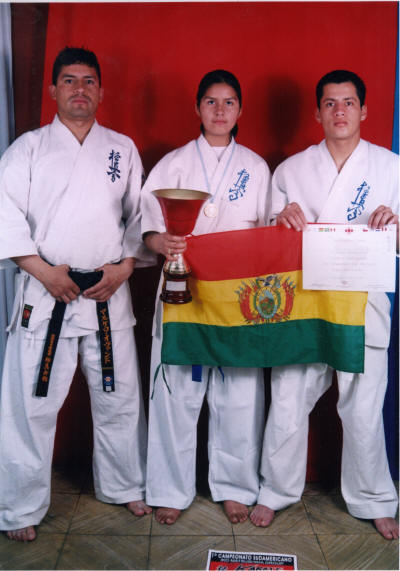 Senpai Marcelo Ovando, Lelis Marquez Carballo (Campeona Sudamericana), Vladimir Valda Gusman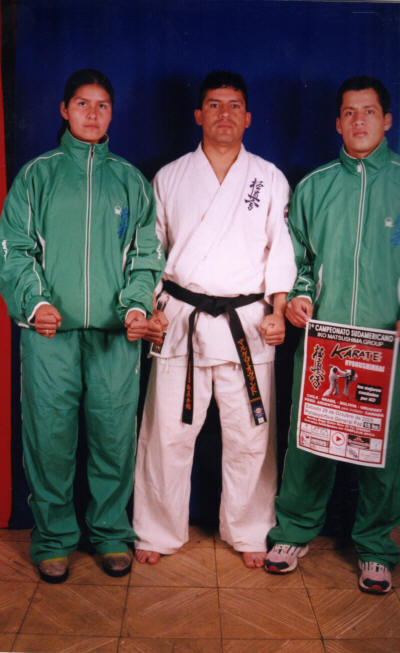 Lelis Marquez Carballo (Campeona Sudamericana), Senpai Marcelo Ovando, Vladimir Valda Gusman