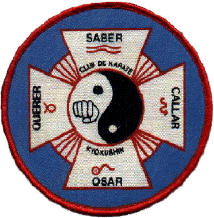 The Dojo ENTHEOS was created on September 1982. The purpose was to share with others Kyokushin Karate in an effort to serve the community. This club is run by the Instructor, Angel Carrasco who started studying Kyokushin Karate in Chile, and has been pursuing his studying and teaching in Canada since 1982. Also he studied Tae Kwon Do in Canada under the instruction of Grand Master K.S. Cho.
Kyokushin Karate in Winnipeg started in 1982. Our first place of training (Dojo) was the living room of Angel Carrasco's Apartment. Since then we have moved to different locations, right now we are practicing in a church gym, which we are kindly allowed to use. The orientation of this club is non-profit, so the classes are free of charge. All that is asked from the students is their commitment to do their best.
Dojo Entheos is not concentrated only in quantity of the students, but in the quality of the teaching. We believe that is very difficult to teach with quality to a large number of students. Our focus is not only in the fighting skill of the student, but more important in giving them the skill they need to succeed in their life and to become a positive influence to others. If you are interested only in the fighting aspect of Kyokushin, then this is not a place for you.
We train in the corner of London St. & Concordia Ave. . Classes available for new students are every Friday from 6:00 p.m. to 7:30 p.m. (Children class), and from 7:30 p.m. to 9:30 p.m. (Adult class). Classes are taught by the instructor Angel Carrasco International Black Belt 3rd Dan on Kyokushin Karate.
Since September 1998, the Dojo ENTHEOS is affiliated with the International Karate Organization Kyokushin-Kaikan run by Shihan Yoshikazu Matsushima. The person in charge for the Canadian branches is Shihan Roman Szyrajew (7th Dan). Shihan Roman has been training with us each time he visits Winnipeg. He is a very knowledgeable teacher, with a lot experience, and we are very grateful to him for sharing his time with us.
for more information, please contact Sensei Angel Carrasco at angel@kyokushincanada.com phone: (204) 663-8102

Below is a reflection which can give you an idea what is our philosophy about Karate-Do which influences the way our classes are orientated.
REFLECTION ABOUT THE MEANING OF KARATE-DO
Popularity in Karate is growing every day. More people are studying Karate, with more schools being opened every day, and more people becoming teachers. Today you can see two kinds of Karate, sport Karate and Karate-Do. In sport Karate, people put more emphasis on the physical aspect, rather than the mental and spiritual aspect of the art. They focus on competition and tournaments, because this brings more students to their Dojos. As a consequence their training is about becoming physically strong, to be ready to win many tournaments and medals, so they can prove to others that their schools are better than others. Not many teachers are qualified or willing to teach the mental or spiritual aspect to their students, because of the fear of losing them. More people are just taking Karate as a way of keeping themselves fit or for self-defense, or to defeat others in competitions and also as part of a program to lose weight and look good. However the Spiritual and Mental aspect is only mentioned sparsely in their programs and not being taught in a daily basis.

Karate should not be just for fighting, self-defense, or to defeat others, but rather to defeat our own egos and ourselves. As teachers we should be concentrated in teaching all the aspects of Karate, a good program should include the physical, mental, and the spiritual aspect of this art. Some teachers put too much emphasis on competition and tournaments, as a consequence they concentrate their teaching only on how to kick and punch in order to win these tournaments. A teacher should have a good curriculum to teach their students, each level should have a balanced amount of material that the students should assimilate before passing to the next one, so we can be assured that the students learn the basics well before even attempting to go into the fighting aspect of the art. The Dojo should not be used only as a place to produce fighters.
The Dojo should be a place where we learn how to control our mind, a place were we learn discipline, and to control our temper. It should be a place where we learn to understand ourselves better, learn about courtesy, and respect
ing others. A place were the heat of our training burns out our ego. Karate-Do is a way of life meaning we should use whatever we learn in the Dojo and apply it to our daily life.
People become great Karateka not because they have won many tournaments, but by how they live their lives, and how they carry on the teaching they are learning in the Dojo into their daily lives. Karate-Do is about perfecting our character and to defeat our own imperfections. Keeping this in mind we can develop our full potential as human beings, so we can become positive influences in society, by contributing in a more effective way to our family, communities, and to our countries.

SUCCESS

To laugh often and much; to win the respect of intelligent people and the affection of children;
to earn the appreciation of honest critics and endure the betrayal of false friends;
to appreciate beauty, to find the best in others;
to leave the world a bit better, whether by a healthy child, a garden patch or a redeemed social condition;
to know even one life has breathed easier because you have lived.
This is to have succeeded.

- Ralph Waldo Emerson