Shihan Real was born in Montreal Quebec Canada, on august 14, 1951.
He begin training in judo and boxing at the age of 16 while in college in Mont St-Antoine Montreal QC in 1966 to 1968. After is college graduation, he begin his study in Karate with a friend who was a brown belt in Shotokan style.
After a short period of time he subscribe at the Sensei Roger Lessourd in the 1969- 1970 in Samurai Karate in Montreal, St-Hubert street, and there he met Shihan Roman who was an orange belt at that time and was promoted to Black Belt Shodan in 1975. He then switch to Ate-Waza Ryu and was also promoted to Shodan in 1976 by Sensei Gaetan Verville 4th Dan in Karate and 2nd Dan in Judo former gold medalist champion in Judo.
Ate-Waza Black-Belt Promotion Test
Montreal, Quebec Canada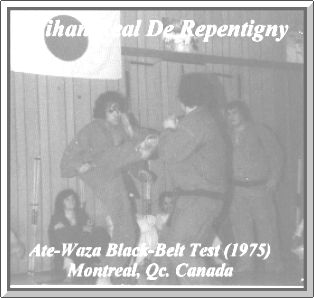 Sensei Gaetan Verville 4th dan & Real De Repentigny
Sensei Gerarld Verville 4th dan (Looking right side)

Shihan Real begin teaching in a small classroom under Sensei Gaetan Verville for about a one year period to obtained is Instructor Certificate. At that same year, he opened the first ATE-WAZA dojo in Longueuil Qc. Canada.
He then tried for about six month Wu Do Kan Kung-Fu style with sifu Kit Wong and Sifu Lee in Montreal Qc. In that same period he also trained in Tae Kwon, Do Ji Do Kwan with master Oh Jang Yoon 7* dan from the World Tae Kwon Do Federation. He trained with master Yoon for about a year and then was asked to test for his Black Belt. For some personal reason, he refuse to present for the test.
He then moved to Sherbrooke, Qc. in the middle of 1978 and started training in Kyokushin style with Shihan Andre Coulombe and was also promote to Shodan in 1979. (See 1979 Black Belt Kyokushin-Kai-Kan Souvenirs Programs in World Tournament book).

Shihan Andre Coulombe (Center) 7* dan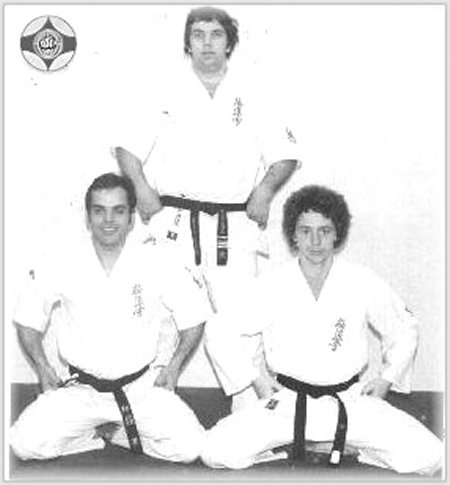 Shihan Real De Repentigny & Sensei Michel Loiselle
In that same year, he was chosen with Shihan Roman Szyrajew (IKO3) to represent Canada Kyokushinkai Team at the World Open Tournament in Tokyo Nippon Budokan but was replace for an injury by another fighter Alain LÚveillÚ.
In march 05 1979, he open is first Kyokushin dojo in Jonquiere under the direction of Shihan Andre Coulombe and than join Saiko Shihan USA North American Oyama Kyokushin Karate Organization. In 1980, he was promoted to Nidan and was appointed as "Branch Chief" for the sector of East of Quebec, Canada.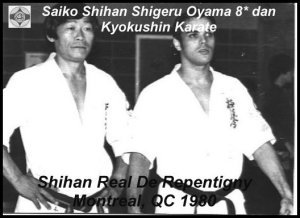 On 1983, he received is 3rd Dan and his 4th Dan in 1988 by Saiko Shihan Shigeru Oyama. During these years, he give several exhibition and demonstration braking baseball bat with is shin, wood breaking, sword demonstration and much more... (See pictures below.)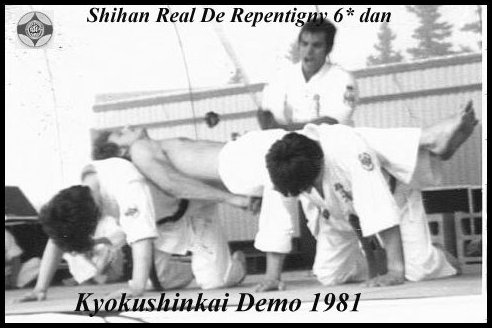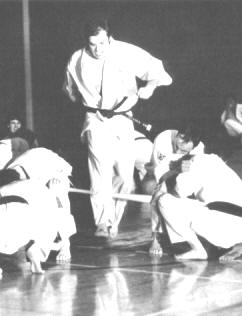 In 1981, he was also chosen by Saiko Shihan Shigeru Oyama to represent Canada in Las Vegas USA International Full Contact Kyokushin Tournament. The Tournament was cancel because of sponsors who had resign their participation. Shihan Real De Repentigny also participated for several years in different tournaments in Canada, and U.S. in Full Contact, Semi Contact and also in Point System tournaments.

Sosai .Oyama Grand Opening North American Honbu
New-York USA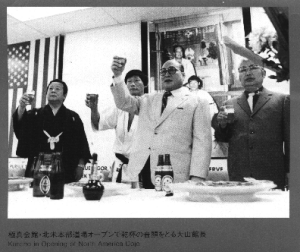 Saiko Shihan Shigeru Oyama standing left side to Sosai Oyama
In 1981, 83 and 1984, he was named athlete of the year by the City of Jonquiere for is numerous participation's in, National, International, Canadian, North American, Pan American tournaments and also for several exhibitions in is local area. In 1992, he also received a Special Tribute by the City of Jonquiere for is contribution in Martial Arts.
He was also the first one to brake two baseball bats with is shin in a demo in front of more than one thousand people in is City. He also appeared in local CJPM TV for a period of tree months in a Special Self Defense series for women.
He also appear in the book "The Strong Man" in Japanese version in page 144, first one sitting from left and page 270, second one from left, beside Soshu Shigeru Oyama and in the Tae Kwon-Do Times Magazine with grandmaster Kwang Jo Choi 9* dan founder of Choi KwangDo Intl and 8th Dan Tae Kwon-Do ITF.
During these years, one of is former student Louis Bouchard, became the National Full Contact Champion in New York USA, and also was the Quebec light weight Kick-Boxing champion. Sensei Louis Bouchard also participated a few time as a Amateur and Professional Boxer.
Jonquiere Qc. Kick-Boxing Seminar 1996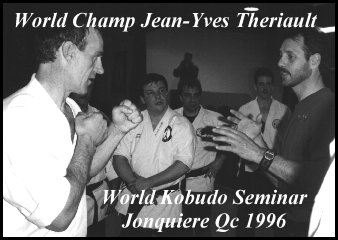 23 Times World Kick-Boxing Champion Jean-Yves Theriault
instructing Shihan Real students at the Seminars